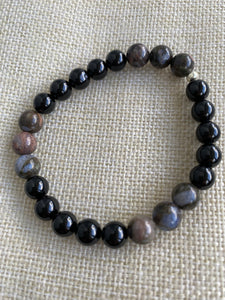 Black Tourmaline and African Blue Opal on stretchy string.
**Please choose the appropriate size for your wrist.**
Black Tourmaline Healing Properties: Aids in Purification, Cleanses other Crystal Energies, Protects from Negative Energies, Helps with Anger & Anxieties, Increases Grounding and Security. A handy stone to any user, Black Tourmaline is the epitome stone for protection.
Opal is an emotional stone and reflects the mood of the wearer. It intensifies emotions and releases inhibitions. Encourages both freedom and independence. Opal enhances cosmic consciousness and induces psychic and mystical visions. It stimulates originality and creativity.