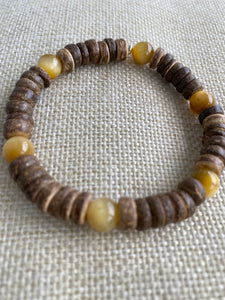 Coconut Shell beads and Yellow Tiger's Eye beads on stretchy string.
**Please choose the appropriate size for your wrist.**
Tiger's eye is a very protective stone. It has powerful and dynamic energy with a watchful quality to it. The specific colors of a tiger's eye stone, from golden yellow to deep red, express strengthening and grounding energies in different degrees. Tiger's eye also has a mystical quality about it.
Coconut shell powder is used extensively in the manufacturing of mosquito coils and incense sticks. It is also used in plywood manufacturing as a phenolic extruder and as filler in the manufacturing of resin glue. It has uniform quality and good resistance to water and fungal attacks.