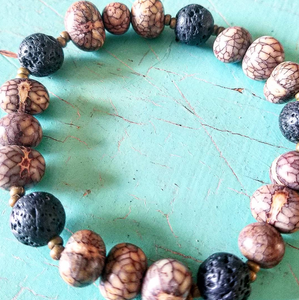 Acai seed beads, Lava Rock, Brass. Stretchy bracelet.
**Please choose the appropriate size for your wrist.**
Lava Rock is known for being a grounding stone, one that can balance the emotions and bring about calmness and strength. ... At the same time, there is a raw energy about Lava Rock, since it is born out of the fiery heat underneath the earth's surface. This energy is said to represent rebirth or renewal.