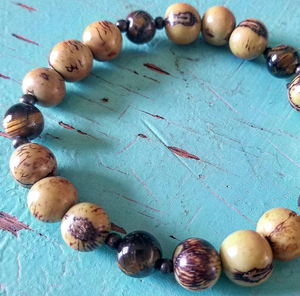 Acai seed beads, Brass, Tigers eye. Stretchy bracelet.
**Please choose the appropriate size for your wrist. Thank you.**
Brass has the meaning and properties of purifying negative energy. It is an amulet that has the energy of bright light. The golden shine symbolizes the sun. It will be useful when you want to clear out shadiness in your mind.
Tiger's eye is a very protective stone. It has powerful and dynamic energy with a watchful quality to it. The specific colors of a tiger's eye stone, from golden yellow to deep red, express strengthening and grounding energies in different degrees. Tiger's eye also has a mystical quality about it.