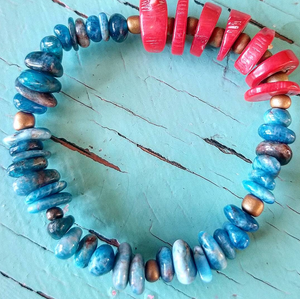 Kyanite chip beads, Coral heist beads. Stretchy bracelet.
**Please choose the appropriate size for your wrist. Thank you.**
Kyanite aligns all chakras and subtle bodies instantly. It provides balance of yin-yang energy and dispels blockages, moving energy gently through the physical body. Kyanite has a calming effect on the whole being, bringing tranquility. It encourages psychic abilities and communication on all levels.
Coral is commonly known to remedy spasms of intestines, sleeplessness, and bladder stones. Coral can reduce stress and fears and combats foolishness, nervousness, fear, depression, panic and nightmares. Coral is used to attract success and wealth and strengthens foresight.