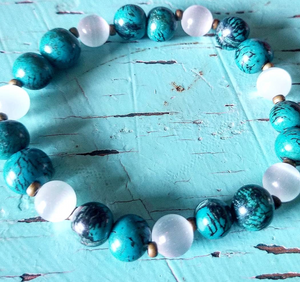 Acai seed beads, White Cat Eye beads, Brass. Stretchy bracelet.
**Please choose the appropriate size for your wrist. Thank you.**
Cat's eye quartz is also believed to help with disorders of the eye, recovery from post-traumatic conditions, healing cancer, increasing night vision, regulating blood sugar and promoting mobility. Cat's eye quartz is said to bring good judgement and provide deeper understanding.