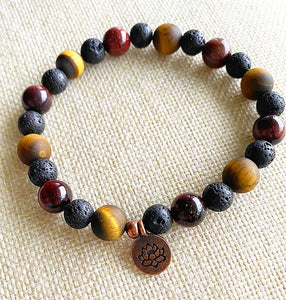 Lava Rock stone, Red Tigers Eye, Matte Tigers Eye and Bronze Lotus charm on stretchy bracelet.
**Please choose appropriate size for your wrist. Thank you.**
Lava Rock (also known as Basalt) is an intense mineral that forms when gasses in magma begin to solidify and harden into rock. Lava Rockis famous for its grounding and calming qualities that can teach us about depth, intensity, and change. This stone works well in stabilizing and anchoring the root chakra. Red Tiger's Eye is a stimulating stone and can support motivation and a more active sex drive. ... Its focus on the lower chakras is what gives Red Tiger's Eye the power to send higher energies through the organs of the lower half of the body. Red Tiger's Eye aids in enhancing confidence and self-esteem. Tiger's Eye Stone is a crystal with lovely bands of yellow-golden color through it. This is a powerful stone that helps you to release fear and anxiety and aids harmony and balance. It stimulates taking action, and helps you to make decisions with discernment and understanding and unclouded by your emotions.