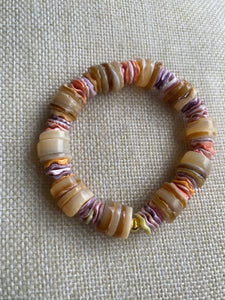 Rare Tahitian Golden Lip Oyster South Sea Pearl Shell heishi beads and multicolored Pectin Shell heishi beads. Stretchy bracelet. 
**Please choose the appropriate size for your wrist. Thank you.**
Heishi or heishi (pronounced "hee shee") are small disc- or tube-shaped beads made of organic shells or ground and polished stones. They come from the Kewa Pueblo people (formerly Santo Domingo Pueblo) of New Mexico, before the use of metals in jewelry by that people.