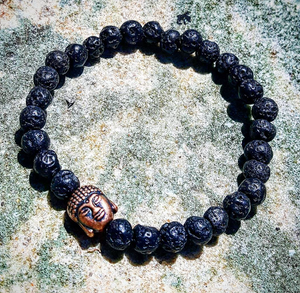 Lava Rock and Copper. Stretchy bracelet.
**Please choose the appropriate size for your wrist.**
Lava Rock is known for being a grounding stone, one that can balance the emotions and bring about calmness and strength. ... At the same time, there is a raw energy about Lava Rock, since it is born out of the fiery heat underneath the earth's surface. This energy is said to represent rebirth or renewal.
Copper also stands for concepts of love and lust, of youth and creativity, affection and romance. Copper is believed to be a metal that heals and is associated with ideas of universal life. Symbolically ruled by the planet Venus, copper stands for everything Venus stands for in astrology.