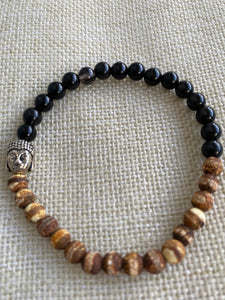 Black Obsidian beads and Dzi Agate beads on stretchy string.
**Please choose the appropriate size for your wrist.**
In metaphysical circles, black obsidian has the aura of absolute mystery. Its energy draws you in softly, but very deeply, which makes the presence of black obsidian powerful in many ways. It is commonly used for protection, healing, truth-telling, and feng shui.
Agate enhances mental function, improves concentration, enhances perception and analytical abilities. It is a soothing and calming gemstone that heals inner anger, anxiety and helps in the strengthening of relationships. Agate instills security and safety.