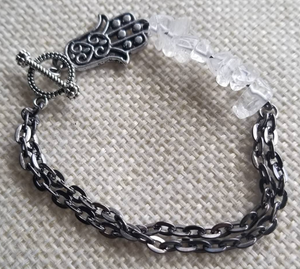 Crystal Quartz, Gun Metal chain, Pewter Hamsa, Toggle clasp. Non stretchy bracelet.
**Please choose the appropriate size for your writs. Thank you.**
This white crystal is considered a "master healer." It's said to amplify energy by absorbing, storing, releasing, and regulating it. It's also said to aid concentration and memory. Physically, clear crystals are claimed to help stimulate the immune system and balance out your entire body.
The Hamsa Hand is an ancient Middle Eastern amulet symbolizing the Hand of God. In all faiths it is a protective sign. It brings its owner happiness, luck, health, and good fortune. The hamsa hand has a wide variety of different spellings which includes hamesh, hamsa, chamsa, and khamsa.