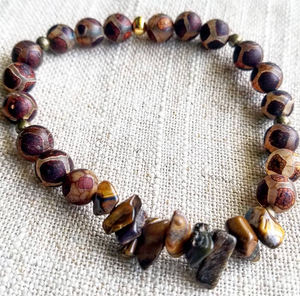 Dzi Agate, Tigers Eye chip beads, African Brass. Stretchy bracelet.
**Please choose the appropriate size for your wrist. Thank you.**
Agate's soothing and stress-relieving properties help you connect with the energy of the Earth by bringing harmony to your mind, body, and spirit. When you feel unbalanced, Agate healing properties have soft vibrations that can recalibrate and realign you.
A stone of protection, Tiger Eye may also bring good luck to the wearer. It has the power to focus the mind, promoting mental clarity, assisting us to resolve problems objectively and unclouded by emotions. Particularly useful for healing psychosomatic illnesses, dispelling fear and anxiety.