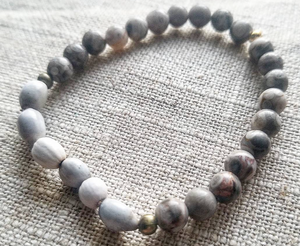 Maifanite, African Brass, African Seed beads. Stretchy bracelet.
**Please choose the appropriate size of your wrist. Thank you.**
Maifan Stone is a gemstone that increases the owner's energy amount. In addition to purifying energy, it also adds strength to it. It is an excellent healing stone which can do "exhaust", "purification", "recovery", "invitation" and "reinforcement" of energy. It is an usable gemstone just by holding one.