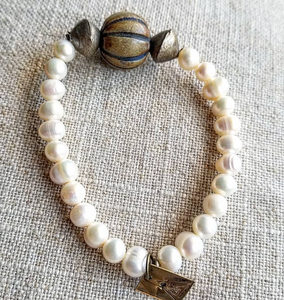 Freshwater Pearls, African Brass, Tibetan carved Wood. Stretchy bracelet.
**Please choose the appropriate size for your wrist. Thank you.**
Fresh water pearls symbolize purity, harmony and humility. Pearls are organic gems that grow within clams and other mollusks. Fresh water pearls are formed when a foreign object acts as an irritant inside the shell. Pearls are the birthstone for the month of June.