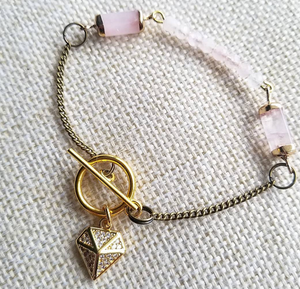 Rose Quartz beads, Rose Quartz pendants, Brass chain, Toggle clasp, Pave Diamond charm. Non stretch bracelet.
**Please choose the appropriate size for your wrist. Thank you.**
Rose Quartz clears out anger, jealousy, and resentment of others, and allows healing of heart issues and dis-ease associated with holding on to such negative emotions. Known as a romance stone, Rose Quartz can be used to attract love.