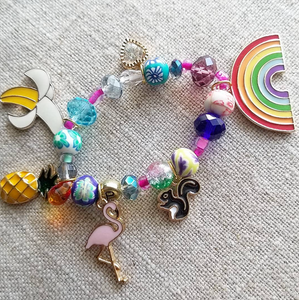 Mixed Enamel, crystal, polymer and Plastic bright beads and charms. Always different. Kid Friendly. Fun and bright! Stretchy bracelets! 
**Please choose the appropriate size for your wrist. Thank you.**
Children prefer brighter colors from an early age because their eyes are not fully developed yet. They perceive these colors better than fainter shades. Bright colors and contrasting colors stand out more in their field of vision.