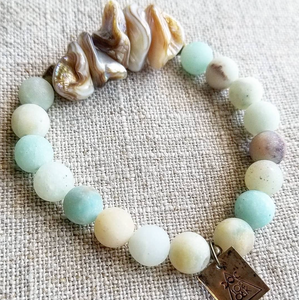 Matte Amazonite, African Brass, Seashell chip beads. Stretchy bracelets.
**Please choose the appropriate size for your wrist. Thank you.**
Amazonite is said to have a soothing effect on the nervous system. Since the nervous system controls our emotions a great deal, this stone is said to soothe tense and aggravated situations and to enhance love. Since this stone is associated with the throat and heart, it is best when worn as a necklace near these areas.
Seashells are made by the animals that live inside them and all shells grow steadily outward. ... Shells are usually perceived as feminine; a symbol of birth, good fortune, and resurrection. Bivalved mullusks represent the womb and fertility.