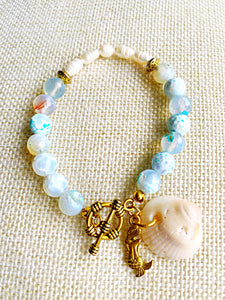 Fire Agate in beautiful bright blues, whites and aquas with specs of gold, yellow and orange. Gold tone Brass beads with Fresh Water Pearls. Non stretchy and with a toggle clasp with Pewter mermaid charm and natural seashell. 
**Please choose the appropriate size for your wrist. Thank you.**
Fire Agate is a protective and grounding stone with a calming energy. It is said to build a protective shield around the body, deflecting ill-wishing and harm and reflecting it back to its source. It stimulates energy and life force and is said to increase sexual vitality and libido.