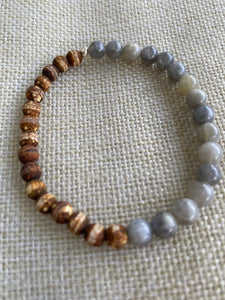 Dzi Agate beads and Labradorite beads on stretchy string.
**Please choose an appropriate size for your wrist.**
Agate enhances mental function, improves concentration, enhances perception and analytical abilities. It is a soothing and calming gemstone that heals inner anger, anxiety and helps in the strengthening of relationships. Agate instills security and safety.
A stone of transformation, Labradorite is a useful companion through change, imparting strength and perseverance. It balances and protects the aura, raises consciousness and grounds spiritual energies. Excellent for strengthening intuition - promoting psychic abilities.