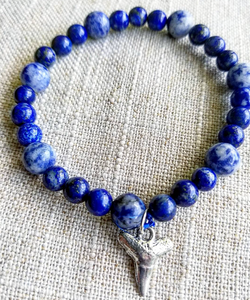 Lapis Lazuli beads, Sodalite beads, Silver coated Pewter Shark Tooth. Stretchy bracelet.
**Please choose the appropriate size for your wrist. Thank you.**
Lapis Lazuli is one of the most sought after stones in use since man's history began. Its deep, celestial blue remains the symbol of royalty and honor, gods and power, spirit and vision. It is a universal symbol of wisdom and truth.
Sodalite helps to achieve emotional balance, releasing old conditioning and programming of the past which no longer serves. A stone of awakening, Sodalite stimulates the Pineal Gland and the Third Eye, and deepens meditation.