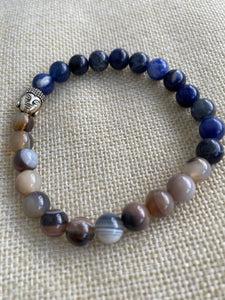 Sodalite and Botswana Agate beads on stretchy string.
**Please choose the appropriate size for your wrist.**
Sodalite brings emotional balance and calms panic attacks. It enhances self-esteem, self-acceptance and self-trust. Sodalite balances the metabolism, boosts the immune system and overcomes calcium deficiencies.
Botswana Agate is comforting and protective, soothing to those who are lonely, easily hurt or grieve a loss. Its quiet energy is particularly centering in meditation, and as a fortification Agate, it supports love and the strength to look for solutions rather than dwelling on difficulties.