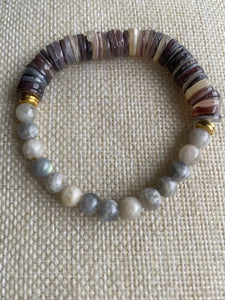 Labradorite beads, double disk Brass beads and rare Tahitian Brown Lip Oyster Shell of the Black Sea Pearl. Heishi style beads. Stretchy bracelet. 
**Please choose the appropriate size for your wrist. Thank you.**
A stone of transformation, Labradorite is a useful companion through change, imparting strength and perseverance. It balances and protects the aura, raises consciousness and grounds spiritual energies. Excellent for strengthening intuition - promoting psychic abilities.