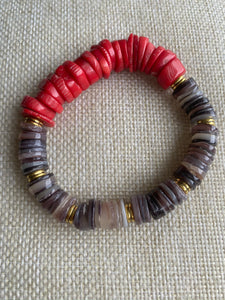 Disk shaped Raw Coral beads with Brass double disk beads and rare Tahitian Brown Lip Oyster Shell of the Black South Sea Pearl. Heishi style beads. Stretchy bracelet.
**Please choose the appropriate size for your wrist. Thank you.**
Coral is a symbol of modesty, wisdom, happiness and immortality. It is commonly known to remedy spasms of intestines, sleeplessness, and bladder stones. Coral can reduce stress and fears and combats foolishness, nervousness, fear, depression, panic and nightmares.