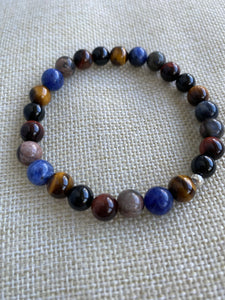 Energy boost. Chakra mix. Tigers Eye, Sodalite, Black Tourmaline, African Blue Opal and Red Tiger's Eye beads on stretchy string.
**Please choose the appropriate size for your wrist.**
Tiger's eye is a very protective stone. It has powerful and dynamic energy with a watchful quality to it. The specific colors of a tiger's eye stone, from golden yellow to deep red, express strengthening and grounding energies in different degrees. Tiger's eye also has a mystical quality about it.
Sodalite brings emotional balance and calms panic attacks. It enhances self-esteem, self-acceptance and self-trust. Sodalite balances the metabolism, boosts the immune system and overcomes calcium deficiencies.
Black Tourmaline Healing Properties: Aids in Purification, Cleanses other Crystal Energies, Protects from Negative Energies, Helps with Anger & Anxieties, Increases Grounding and Security. A handy stone to any user, Black Tourmaline is the epitome stone for protection.
Opal is an emotional stone and reflects the mood of the wearer. It intensifies emotions and releases inhibitions. Encourages both freedom and independence. Opal enhances cosmic consciousness and induces psychic and mystical visions. It stimulates originality and creativity.