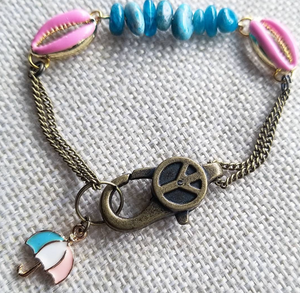 Raw Apatite stone nugget beads, Pink Cowrie Shell, Brass chain,
Brass peace clasp, Enamel umbrella charm. Non stretch bracelet.
**Please choose the appropriate size for your wrist. Thank you.**
Apatite clears confusion and frustration, reducing irritability and awakening the inner self. Apatite expands knowledge and truth and eases sorrow, apathy, and anger. Physically, Apatite aids in the absorption of calcium, helping cartilage, bones and teeth; healing bones and encouraging the formation of new cells.