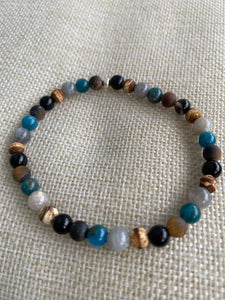 Black Obsidian beads, Dzi Agate beads, Labradorite, matte Tiger's Eye and Blue Apatite beads on stretchy string.
**Please choose the appropriate size for your wrist.**
Obsidian is truth-enhancing. A strongly protective stone, it forms a shield against negativity. It blocks psychic attack and absorbs negative energies from the environment. Obsidian draws out mental stress and tension.
A stone of transformation, Labradorite is a useful companion through change, imparting strength and perseverance. It balances and protects the aura, raises consciousness and grounds spiritual energies. Excellent for strengthening intuition - promoting psychic abilities.
Agate enhances mental function, improves concentration, enhances perception and analytical abilities. It is a soothing and calming gemstone that heals inner anger, anxiety and helps in the strengthening of relationships. Agate instills security and safety.
Tiger's eye is a very protective stone. It has powerful and dynamic energy with a watchful quality to it. The specific colors of a tiger's eye stone, from golden yellow to deep red, express strengthening and grounding energies in different degrees. Tiger's eye also has a mystical quality about it.
Apatite clears confusion and frustration, reducing irritability and awakening the inner self. Apatite expands knowledge and truth and eases sorrow, apathy, and anger. Physically, Apatite aids in the absorption of calcium, helping cartilage, bones and teeth; healing bones and encouraging the formation of new cells.