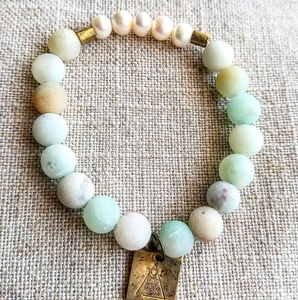 Matte Amazonite stone, African Brass, Fresh Water Pearls. Stretchy bracelet.
**Please choose the appropriate size for your wrist. Thank you.**
Amazonite is said to have a soothing effect on the nervous system. Since the nervous system controls our emotions a great deal, this stone is said to soothe tense and aggravated situations and to enhance love. Since this stone is associated with the throat and heart, it is best when worn as a necklace near these areas.
Freshwater Pearl has the meaning and properties of purifying inner-body energy. It is an amulet that can clean the negative energy accumulated inside you. It is good to use when you want to reset rough feelings and thoughts. Freshwater Pearl is useful when you want to get back pure mind.